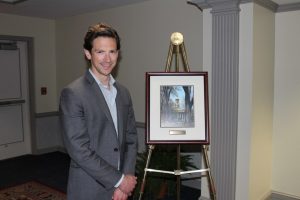 2019: John Kaag
John Kaag is Professor and Chair of Philosophy at the University of Massachusetts Lowell and the Miller Scholar at the Santa Fe Institute. He is the author, most recently, of American Philosophy: A Love Story (FSG, 2016), named an NPR Best Book and an NYT Editors' Choice, and winner of the John Dewey Prize in Intellectual History, and its sequel, Hiking with Nietzsche: On Becoming Who You Are (FSG, 2018), also named an NPR Best Book. Kaag publishes regularly in the New York Times, Wall Street Journal, Harper's Magazine, the Paris Review, and other venues.
He graduated in 2002 from the Schreyer Honors College with a simultaneous MA and BA degree in philosophy and was marshal for the Department. He did his graduate work in philosophy at the University of Cambridge and the University of Oregon, and post-doctoral study at the American Academy of Arts and Sciences and Harvard University.
2018: Marci Hamilton and Melissa Protzek
Marci Hamilton received her MA in Philosophy from Penn State in 1992 and a JD from the University of Pennsylvania Law School, where she also served as editor-in-chief of the Law Review. She later clerked for the U.S. Court of Appeals for the Third Circuit and for U.S. Supreme Court Justice Sandra Day O'Connor. Hamilton is currently the Fox Professor of Practice, a Fox Family Pavilion Resident Senior Fellow, and co-chair of the "Common Ground for the Common Good Project" at the University of Pennsylvania Law School. She is also the founder, CEO, and academic director of CHILD USA, a nonprofit academic think tank that conducts interdisciplinary, evidence-based research on improving laws and public policy to end child abuse and neglect. Widely recognized as a leading critic of extreme religious liberty and an expert on clergy sex abuse, her work has been nominated for the Pulitzer Prize. 
Melissa Protzek graduated from Penn State with a BA in Philosophy in 1995 and later received her JD from the University of Pittsburgh Law School. She is currently the executive director and CEO of CASA of Allegheny County, a nonprofit organization that helps concerned community members become volunteer advocates for abused and neglected children within the child welfare system. Protzek has been named National CASA Director of the Year, one of the "Top 25 Women in Business" by the Pittsburgh Business Times, and Woman of the Year by the Pitt Law Women's Association and the Allegheny County Bar Association.
2017: Dr. Jafar Al-Mondhiry
Dr. Al-Mondhiry graduated Summa Cum Laude from Penn State in 2010 with a BS degree in Neuropsychology and a BA/MA in Philosophy, with a minor in English. While at Penn State, he received the Philosophy Department's Shibley Award and a Dotterer Travel Award, and was active in our Philosophy Club. Dr. Al-Mondhiry went on to graduate the New York University School of Medicine in 2015 with interests in internal medicine, hematology/oncology, palliative care, the medical humanities, and clinical medical ethics. He currently works as a medical resident at NYU's Langone Medical Center, Bellevue Hospital, and the Manhattan VA hospital. He continues his interests in the medical humanities and medical ethics with his work as president of the NYU Harm Reduction Coalition and as founder and president of the NYU Bioethics Interest Group.
2016:  Ravi (Romel) Sharma
After graduating from Penn State with Honors in Philosophy, Economics and International Studies in 2003, Romel Sharma embarked on a series of internships, travels abroad, and post-graduate training. He interned at the Center for Strategic and International Studies in Washington, worked for CIMA Technology as the Director of Business Development, and then went on to earn his JD at the University of Virginia while also earning an MA in Law and Diplomacy at the Fletcher School of International Affairs at Tufts University. Sharma went on to intern and clerk in a number of important offices, including for a U.S. Attorney, a U.S. Senator, and a U.S. District Court Judge, all before embarking on his own law career. He is currently an Associate at the firm of Paul, Weiss, Rifkind, Wharton, and Garrison in Washington DC, where he negotiates highly complex international finance agreements and advises multinational companies on legal, policy and social issues.